on
November 20, 2008
at
10:57 pm
The past few weeks have been mental. Like, bat shit mental. I can't actually believe the amount of events I've done recently and it's not even over yet.
If you're around London this Saturday between 1pm and 7pm then please stop by the ICA for the annual Comica event where you'll find the Comiket show, a small press/indy comic fare co-organised by the man at the crossroads himself, Paul Gravett along with London Underground Comics. For more information click here, yeah? I'll be there with the usual stock and I'll be taking some books by Adam Cadwell, Lizz Lunney and We Are Words And Pictures with me.
Last weekend's Thought Bubble Festival in Leeds was an absolutey amazing experience. I'm still a little worse for wear, though I will probably go on record by saying that it's the best convention I've ever been to! It started off badly with a horrible meal at Nando's (that's right, we want our appetizers half way through our main meal, SPOT ON!) and what seemed like an endless walk around Leeds on the Friday night. Come Saturday though, it turned into a different beast. Great sales, great atmosphere, great floor layout and a great sense of community made for an awesome time. Anna was running around with cakes and brownies, I was lively and busy (for a change…)I even had my very first panel, ever! Here's a picture of everyone looking well bored while McKelvie talks (including a fastly falling asleep Gillen with his belly showing…)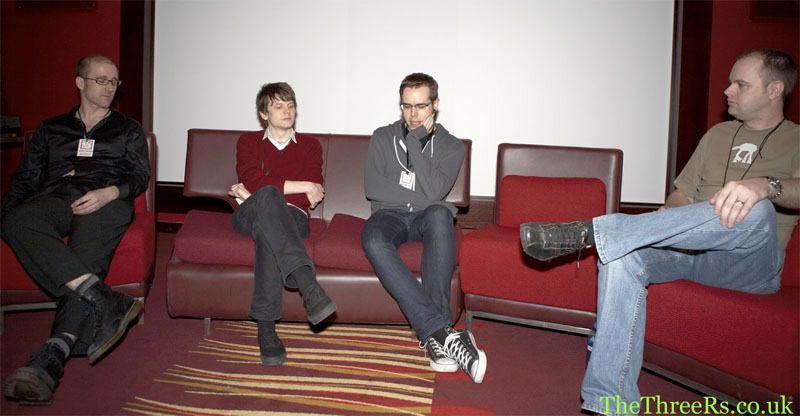 At one point I said "all superhero comics are dogshit". Classic. I think I meant to say "MOST superhero comics are dogshit," but didn't. Anyway, I think it went really well, even if the chatter steered towards Marvel a bit too much. SORRY GUYS! I also took part in a manga panel, but I think I did pretty rubbish, so less said about that, eh? Saying that, I really want to do more panels, please!
A big thank you to Tamsin and Lisa and the whole Thought Bubble team. Everyone should come over next year and try and exhibit, seeing as the rest of the UK cons are going through a bit of a shit period, this will hopefully become the one stop for the UK comic community.
Also, remember that Ellerbisms are going three days a week starting Monday. I'll updating Monday, Wednesdays and Fridays, so keep checking back, true believers!